GLP Advanced Programme 2019
August 22 @ 10:00

-

August 24 @ 14:00

BST
​​The Advanced Programme in the practice of developmental action inquiry and applications of the GLP framework, Stockholm/Helsinki,August 22– 24th2019 – March 3-5th2020
You will have attended the  'Exercising action inquiry and mutual power: GLP Certification workshop; Using the GLP for leaders' and looking to deepen your practice and understanding in a profound way for the benefit of your own developmental journey as well as in your practice with others – individuals, teams and organisations.
This programme will enrich your practice and understanding in a disciplined and focused way in the company of others equally enthusiastic.
In particular we will:
Practice developmental action inquiry rigorously thus challenging ourselves to broaden our understanding of the strength of the approach across a range of perspectives
You will draw on the practices around an issue that you feel passionately about and wish to significantly impact
There will be attention to enriching our understanding of the GLP and the many layers of exploration that may be less visible to us
You will work in a small learning group to provide peer feedback, challenge and support during this programme
You will work on a project that is commensurate with participating in an advanced practitioner certification workshop.
You will produce a piece of written work that demonstrates your engagement with the practice
PART I, August 22nd – 24th 2019
This 2.5-day workshop will be located in Sweden (details to follow) and will be facilitated by Jane Allen, Heidi Gutekunst and Bill Torbert.
The themes will be the many facets of developmental inquiry and the mystery of developing mutual power interweaving 1st, 2ndand 3rdperson inquiry.
PART II, March 3rd – 5th, 2020
This 2.5-days workshop in Helsinki will be facilitated by Jane Allen, Heidi Gutekunst and Elaine Herdman-Barker.
The themes will revolve around deepening practice, the moving strands in the GLP and the significant moves between the later action logics. There will also be the opportunity to share and deepen the developmental learning for the group and individuals around their chosen 'project.'
It is expected that there will be preparation work before the first workshop and on-line meetings between Parts 1 and 2 including between the learning trios. The dialogue with participants' hopes and expectations will feed into the detailed design of the programmes in each part.
Experiences from the Action Inquiry and GLP workshop in Helsinki 2018
HOSTING AND FACILITATION TEAM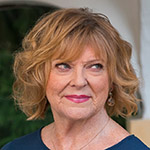 REFERENCES
"The Global Leadership Profile Certification workshop in Helsinki, May 2017, was a life changing experience for me. The atmosphere that Jane and Heidi were able to evoke in the group was very special. It was truly living the transformational leadership in action, where every moment was a place for self-reflection and sensing, when to take action, and when to be in silence. I highly recommend this workshop for anyone interested in deeper development, and I suggest to engage in the evening activities as well. It was great to have Bill and Elaine on the line as well, as they are the theoretical experts of the GLP. The international group and great venue location at the heart of Helsinki really highlighted this amazing experience."
Sanna Niemelä, certifying GLP coach, Finland
"Three days "training" with #amaracollaboration has fundamentally changed me. My desire for awakening and being present has somehow become embodied. I really feel a major whole-body part of me died. Like, I died. Yet, here I am. A habitual, bone-deep sadness and anxiety has just…gone. Not bad for what on one level, was a leadership assessment certification course. *smiley blink*" Posted on Instagram, May 2017.
Andrew Lightheart, Birmingham, UK, certified GLP coach, Helsinki 2017
INVESTMENT
3950 € (+VAT, if applicable) with an early-bird discount to 3500 € (+VAT, if applicable) when paid before May 31st 2019. The fee includes all meals (including lunches and dinners and refreshments), material and the two 2,5-day workshops.
We offer one scholarship for every 8 participants for this workshop. For more information about scholarships, contact Heidi at heidi@amara.fi
For further inquiries or to register for the workshop, contact Jane Allen jane@amara.fi Heidi Gutekunst +358 40 514 753, heidi@amara.fi